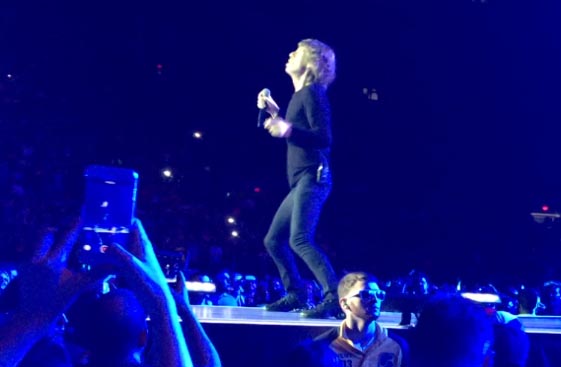 Greatest Brand in Rock and Roll
I just witnessed the greatest brand perform in front of 60,000 fans at the Ohio State University football stadium as a part of their Zip Code tour. That's right, I said "brand" instead of "band". The Rolling Stones are without a doubt the greatest rock and roll band in history. Some would say The Beatles were the best, but that's a debate for another day. What I saw last Saturday was the greatest brand in Rock and Roll in action.
Everyone enjoyed a great performance by Mick Jagger, Keith Richards, Ronnie Wood, Charlie Watts and the rest of the musicians. Mick and the boys played all of the classics and as I looked around at the crowd, there was a diversity of ages. I would say that the 50+ age group dominated, but there were much younger fans as well. The older folks, like myself, were taken back to our youth. Hey, we were young once and knew how to party! Singing along to "I Can't Get No Satisfaction" was like being teleported back to the 60s and 70s. And the younger crowd, they were there to see history and listen to music that stands the test of time.
Formed in 1962 the Rolling Stones have sold over 250 million albums and can still pack large stadiums. Mick Jagger, a savvy marketing professional, knows how to maximize the bands exposure. Over the years, they have performed in front of millions of fans. Music is an industry and the Rolling Stones are one of the most successful bands in history. Clearly, Mick knows how to promote, communicate and connect with existing fans and new, younger listeners. He's been doing it successfully for over 53 years. It's only rock and roll (and marketing), but I like it!
Marcy Design Provides Marketing, Advertising & Website Services in Columbus, Ohio
The first thing to remember is that we believe that our creative energy produces powerful ideas. For example we can help you sell more products and services for Columbus Ohio Website Design.
Equally we are hard working and represent one of the most experienced resources for your business's web strategy. In addition Marcy Design has designed websites for companies of all sizes. And we will help bring strategy, design and success to your business as well.
All in all we are recognized as the best in the business. And Marcy Design can provide businesses in Columbus, Ohio with web design, marketing, advertising and social media.