We offer a broad range of marketing support services (all packed with our trademark creativity) that can be tailored into bespoke packages to suit your exact business needs. We are also extremely flexible and can quickly react and adjust our provision as your requirements change over time.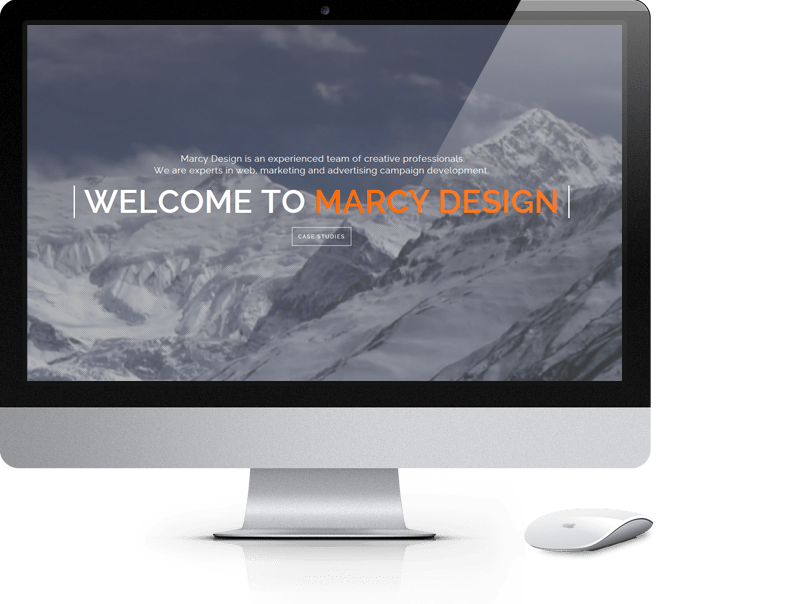 Our Services
This list is not exhaustive; it merely outlines some of the main areas we operate in. If you don't see what you're looking for, need inspiration and ideas or you don't know what you need then just ask, there's no shame in that. Had enough of reading? Let's talk instead.
Brand
Your brand is the thing your company hangs its hat on, the qualities for which you are known and the consistent visual and language cues that represent them. Marcy Design specializes in developing and embedding fresh brand identities for new or existing businesses.
Design
Design is part of our name and creating truly great creative design is an integral part of everything we stand for. Excellent design fueled by fresh perspectives and ideas will elevate your business above the competition and create an indelible impression in the mind of your customer.
Production
Rigorous production standards are essential for effective TV ads, but they are also key to business performance online. We understand that a static website isn't reaching its full potential to sell your business, so we can produce top quality animations and videos to really bring your story to life.
Programming
Whether you're looking for something as fundamental as integrating your CRM system with your website or you dream of a data driven site with stacks of dynamic content and interactive bells and whistles, we can lend you the technical programming skills to realize your ambitions.
Applications
Applications have many purposes and help both you and your customer. For instance, a CMS is an easy way to take control of your site content, but there are also plenty of applications that add front end functionality for your customer - "the really cool stuff".
Hosting
Every website needs somewhere to "live", so it can be seen on the web. After we've built your shiny new site, we can also offer it an affordable, cozy home where it'll be safe and well looked after and potential customers can access it reliably. From small websites to large enterprise solutions, Marcy Design can help with your hosting needs.
SEO
You're proud of your website. (And why wouldn't you be? Seriously, if you're not, call us.) You want as many people as possible to see it. That's where our SEO services come in, we make your website more easily discoverable by search engines like Google, and therefore more visible to the people who matter to you.
Mobile
Nearly everyone has a mobile device, and they are using their tablets and mobile phones to surf the web. A website that looks good on a computer may not look so great on a mobile phone. Your website and more importantly the content on your website should be mobile-ready with the ability to be responsive.
eCommerce
All websites should sell, that's a given. But websites that can actually make cold hard cash for you while you're sleeping are a different breed, one that get us very excited. We specialize in developing high performing eCommerce sites for a wide range of different industries.
Email Marketing
Email marketing is one of the most effective methods for communicating with your target audience. Marcy Design can help your business or organization set up accounts, maintain email listings, design your promotion and monitor the results. You'll save money over using direct mail as well!
Digital Publishing
The media is filled with articles about the death of print publishing and the rise and rise of tablets and digital publications. We're not going to jump on the bandwagon and say print is dead, but offering a digital version of your publications is an undeniably smart move, and we can help.
Video Brochures
Video brochures are an excellent deliverable for improving your brand. We can tell your company story through text and video. When your customer receives a video brochure in person or in the mail, the effect is incredibly positive. This will leave a favorable impression.
The Marcy Design team did a wonderful job creating and developing the website for our small business. The team was responsive and easy to work with.
We worked with Marcy Design for 18 months on our website and they were responsive, innovative, knowledgeable and easy to work with. I look forward to our continued relationship and highly recommend them to others.
Working with the group at Marcy has been incredible! They have helped us with everything, and anything we need while starting our business. We could not be happier!!
The Marcy Design Group is an awesome team to work with and are a top-notch professional organization! Their functional leadership in web design is excellent and knowledgeable from end-to-end.
Great people to work with!! Looking forward to using them again!!
Marcy Design was so easy to work with. They listened to what we needed and gave us exactly what we were looking for in a website. I would highly recommend them.
Contact Marcy Design
Need more information about who we are, what we do or maybe even our favorite restaurant? We're here to chat. Tell us about your company and how business is going. Feel free to call, send an email, Tweet or simply complete the contact form. We love hearing about exciting new ideas!