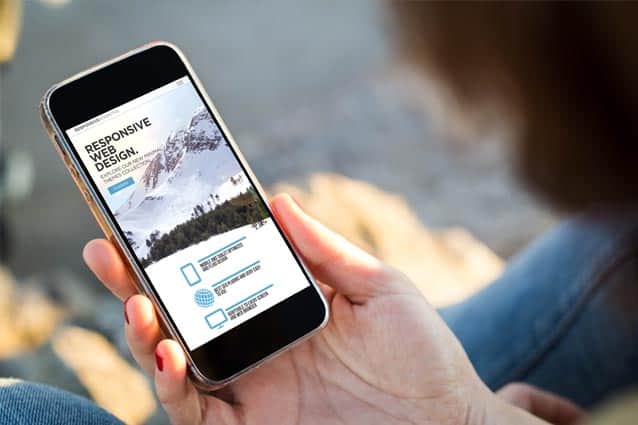 Mobile Responsive Website
Whenever we meet with business owners to talk about the status of their online marketing campaigns. One of the first questions we ask is: do you have a mobile responsive website?
The answer tells us a lot about how good the business owner or executive in question has been about keeping up with the latest web design trends. It also tells us whether they are serious about getting online sales, new leads, or walk-in visits from their web presence.
You have probably heard that more than half of all web traffic now comes from phones and tablets. That shouldn't be surprising, given that there are nearly 4 billion mobile users right now. Many of them with multiple web-ready devices. You don't need those statistics, of course, if you just walk around a public area. No matter where you look you'll find people of all ages on iPhones, Androids, iPads, and Kindles.
Despite that reality, there are still small businesses out there fighting the trend towards mobile responsive websites. These are layouts that adapt themselves so they display equally well on small screens and large ones. A user coming to you through an iPhone might get one version of your page, for example. And a laptop or desktop user would get another. Both get all of your content, though, even if it's formatted slightly differently.
That brings us back to the question at hand. Do you have a mobile responsive website? If not, let's look at some of the reasons you should consider making an upgrade today…
A Mobile Responsive Website Keeps You On Par with the Competition
There is an old saying that goes like this: if you don't take care of your customers, someone else will. That definitely applies to mobile responsive web design. If your pages aren't formatted for buyers using smaller screens. They'll flock to your competitors who have updated their online marketing strategy.
In this day and age, another company that offers similar products or services is just a mouse click away. One survey by AUM found that 69% of respondents use mobile devices to research businesses before making a buying decision. Wouldn't you rather have customers coming to you instead of someone else?
Google Expects You to Have a Mobile Responsive Website
The talented programmers at Google keep their thumb on the pulse of the online marketing world for obvious reasons. At the moment, they estimate 48% of all searches originate from mobile devices. That means one out of every two Google queries comes from a phone or tablet.
Knowing that, they have incorporated mobile compatibility into their search algorithm. They prioritize and boost businesses that have made the jump to mobile responsive website. And will ignore websites that don't work well on smaller screens. So, if you don't have a mobile responsive website, you may not even get the chance to win a customer in the first place because they won't find you.
Going with a Responsive Website Can Boost Conversions
This probably won't be surprising, given the facts and statistics we've already shared. But having a website that works with mobile devices is important if you want to generate leads, sales, or visits. The numbers bear this out. In another Google study, 92% of mobile searches eventually lead to some kind of buying activity.
This makes perfect sense. If people are searching for products and services while they are on the go, it's likely going to be for one of two reasons. Either they have an immediate need, which suggests they'll find a mobile-friendly search result and buy quickly. Or, they are using the screen that's most convenient for them. In which case they'll already have a preference for a certain website or business even if they resume their search on a different device later.
In either case, marketers with mobile responsive websites have a very clear advantage when it comes to winning the sale. Marcy Design can help.
Mobile Functionality is Important for Local Marketing
One interesting twist in the rise of mobile computing is that it has impacted businesses that rely on local customers most heavily. With the Yellow Pages and other print directories virtually disappearing. Buyers are now flocking to their phones when they need to find a restaurant, dry cleaner, or nearby retail shop.
There is a social aspect to this trend, as well. While word-of-mouth recommendations used to be passed along over coffee and newspapers, it is now shared through websites (and mobile apps) like Yelp and TripAdvisor. As a result, buyers only need to have an internet-connected phone in their pocket to get access to current reviews, driving directions, business hours, and so forth.
If you have a mobile-ready website, you will be poised to take advantage of these referrals as they come your way.
Upgrading Your Website to a Responsive Design is Easy and Affordable
Given all of the advantages that come with having a mobile responsive website, why would any business organization go without one? After all, we live in a time when food trucks have established social media presences. What good reason could there be for a company to ignore this crucial aspect of online marketing?
The answer, of course, is that some business owners and executives fear that upgrading to responsive web design will cost too much. Or, they worry that the project will be time-intensive. We can tell you definitively that neither is true. If you find the right vendor to help you out, upgrading your website to responsive, mobile-friendly design is both easy and affordable.
Get Help With Your Web Design and Mobile Marketing Strategy
At Marcy Design in Columbus, Ohio we work with small businesses, corporations, and nonprofits to help them achieve their internet marketing goals. Whether you need to add mobile functionality to your website, or just find a way to keep more customers coming to your store,. We can help you make the most of your time and budget.
To learn more about responsive web design. Or how we use tools like search engine optimization and social media to generate real-world results. Contact our team to schedule a free consultation today!
Mobile Website Design in Columbus Ohio
All in all we are recognized as the best in the business. And Marcy Design can provide businesses in Columbus, Ohio with web design, marketing, advertising and social media.
Finally as a Columbus Ohio Website Design company. We will work with your business producing quality work and be more effective at marketing. And increase sales through online and traditional methods. You may review our overview listed below.