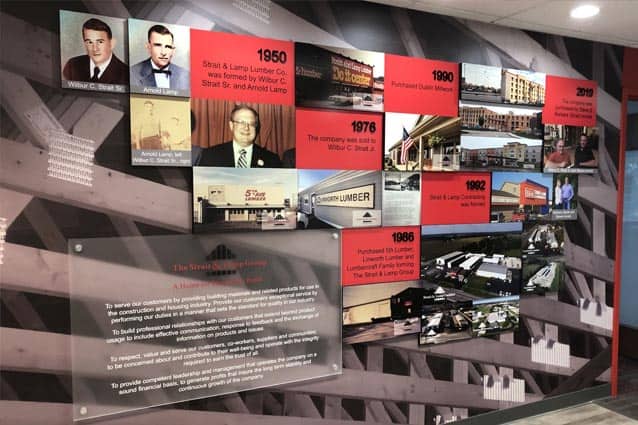 Beautiful Wall Display Design
Marcy Design created and developed a wall display design for the office of Strait & Lamp. Historical photos and dimensional panels really set off their office and presents a professional image for their employees.
Steve Arnold, President stated:"The Strait and Lamp Group is elated, on how Marcy Design group brought our history wall to life. They were able to show three generations of family and the growth from 1 to 6 businesses over a period of time. Having this as a focal point in our office really brings our history into the present and shows visitors and new employees what The Strait and Lamp Group is about."
Marcy Design Provides Marketing, Advertising & Website Services in Columbus, Ohio
The first thing to remember is that we believe that our creative energy produces beautiful wall display design. For example we can help you sell more products and services for Columbus Ohio Web Design.
Equally we are hard working and represent one of the most experienced resources for your business's web strategy. In addition Marcy Design has designed websites for companies of all sizes. And we will help bring strategy, design and success to your business as well.
All in all we are recognized as the best in the business. And Marcy Design can provide businesses in Columbus, Ohio with web design, marketing, advertising and social media.
Finally as a Columbus Ohio Website Design company. We will work with your business producing quality work and be more effective at marketing. And increase sales through online and traditional methods. You may review our overview listed below.